Barker & Broski - The Backstory
Barker & Broski are an entertaining band, but where did they come from and why? Such questions have pondered great minds for centuries, but here and now they will be definitively answered. Mike and Chris had many musical adventures in the run-up to their current coffee house duo. This is that story.
Chris Broski - 1975, Eau Claire, Wisconsin
Ginger Broski bought a Kimble family organ from the local music store and had this massive piece of furniture installed in the living room of her home. All family members started lessons, but everyone quickly dropped out except for her 9-year-old son, Chris. He was small for his age and had a knack for operating this monstrous contraption with its drum machine and arpeggiator, so it was impressive to see all of this music produced by what looked like a toddler. The local music store paid Chris $2.50 an hour to play at nearby malls and even on a local TV commercial. It's hardly the story of Mozart, but not many can say they started their professional music career at 9 years old. Later, the Broskis moved to Michigan where Chris played saxophone in school wind ensemble, but that was boring and sucked so he took up guitar. Instead of lessons, he was lucky to find an opportunity playing bass in a high school rock band. The guitarist, Doug, and drummer, Joel, were patient enough to teach him how to play in a real band.
Mike Barker, Detroit, Michigan
Mike Snyder-Barker's childhood musical experience could not have been more different. "Musician" was a bad word in his home due to Mike's dad being a deadbeat cheating drummer, so playing instruments was forbidden. But this was not enough to stop his passion for music. In college he used $100 of his student loans to buy a used drum kit.
The College Years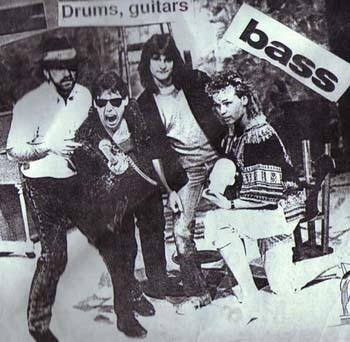 Mike met Chris at WVAC, the Adrian College radio station. They formed Mike's first band with friends Dana and Jim called The Albino Zoo. They played bar covers at the TKE house, Rush Union (the campus grill) and a local pub to tepid response.
Though Chris was a biology major, he took as many music classes as he could, including choir and music theory. In his Junior year, he was fortunate to score the lead role in the theater department's production of Do Black Patent Leather Shoes Really Reflect up? with Mike and Dana accompanying him the the orchestra pit. Mike completed his major in Sociology, but indulged his musical side as the radio station's program manager.
Real Life
In the decade after college, Chris joined up again with Mike, Dana, and a new guitarist, John. This time the band was called "Soylent Green" with Mike writing original lyrics. This is when the character "Fat Zach" (who finds his way into many of Mike's songs and stories) was born. Chris wrote and recorded original music with them for a few years, convinced them to change their name to "Edgar Allen's Toe" and then quit.
Modern Day Acoustic Realities
As they embraced adulthood by cultivating lives of quiet desperation with families and full-time careers, music never disappeared. (And remained an important tool for coping with the demands of family and career.) While in between bands they participated in the old stand-by: open mic nights. Chris could perform solo, but Mike required musical partners to accompany his cajon so he worked to develop a network of musicians around Lenawee and Washtenaw counties. He even started booking acoustic acts at a few local venues.
Chris and Mike reconnected in 2016 when Mike booked Chris to play at the Tecumseh Appleumpkin Festival and Black Fire Winery. In the summer of 2018, Chris wrote music to Mike's lyrics for the song, Generica, and the Barker & Broski project was born.